Hey friends! Just wanted to let you know that Laura Mercier has a fabulous Friends and Family Sale going on through their website right now where you can get 20% off of your order plus free shipping (over $50) now through 7/2/17! Friends & Family: 20% off any purchase
. So your next question is probably what should you buy from Laura Mercier?
This is a cult favorite. Laura Mercier Translucent Loose Setting Powder can be used all over the face after foundation to reduce shine, minimize the appearance of pores, and give your makeup an airbrushed finish that will last all day and night. You can also use Laura Mercier Translucent Loose Setting Powder to "bake" or set your under eye concealer. I like to do this by first applying foundation, then using a slightly lighter concealer under my eyes, down the bridge of my nose, on my forehead, and on my chin to highlight, then I blend all of it in with a damp beauty blender. I tap some of the Laura Mercier Translucent Loose Powder into the lid and take the still-damp beauty blender and press it into the powder to stick it to the beauty blender. I then press the beauty blender with the powder over all of the areas I just highlighted. You can use extra powder to "bake" which will make your highlighted areas look extra bright and stay matte longer and once you are done with the rest of your makeup you just sweep away the excess with a fluffy powder brush. I explain this process in my Lilly Ghalichi (and Kim Kardashian's) Tips and Tricks Part Two post.

The Laura Mercier Caviar Stick Eye Colours are basically eyeshadow sticks/crayons that can be used as an eyeshadow, an eyeshadow base (which you can apply powder shadow or pigment on top), or an eyeliner. These glide on easily and can be blended out with your finger. My favorite Laura Mercier Caviar Stick Eye Colour I own is the color Moonlight which is a metallic champagne beige that's super versatile for day or night wear. I also own Rose Gold (a rosy gold shimmer) which can be used in the inner corners of your eyes near the tear ducts as a highlight or in the center of the eyelid for a halo eyeshadow effect. I also own Plum which is a dark purple shimmer (but is not super shimmery this looks the most matte) which can be used all over the lid and bottom lash lane for a dramatic smokey-eye look that would really make green or hazel eyes pop. I have a whole post with a Laura Mercier Caviar Stick Eye Color Review.
My sister came back from her bachelorette party recently raving about her friend Sarah's Laura Mercier highlighter which ended up being the Laura Mercier Matte Radiance Baked Powder in Highlight-01. This powder also comes in a Bronze Shade (Bronze 01-04). The website says this ultra-smooth baked powder "wakes up" skin with a subtle sheen to accentuate the high points of your face. This means you apply it with a brush or fingers to the bridge of your nose, tops of cheekbones, brow bone, forehead and chin. It's also customizable/buildable and blends effortlessly from a soft luminous glow to a healthy radiance depending on how much is applied. This is an all day wear powder (8 hours). The bronzer is supposed to also last 8 hours and stay true to it's color without oxidizing (turning a dreaded orange color) for an even wear.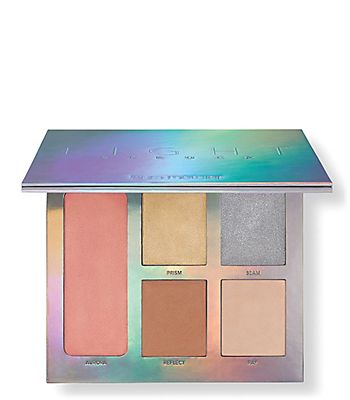 If you want to bump your glow up to the next level, the Laura Mercier Lightstruck Prismatic Glow Palette contains 5 lightweight, sheer, creme highlighters that interplay with light to reflect and refract a prismatic glow. Here's what the final effect can look like: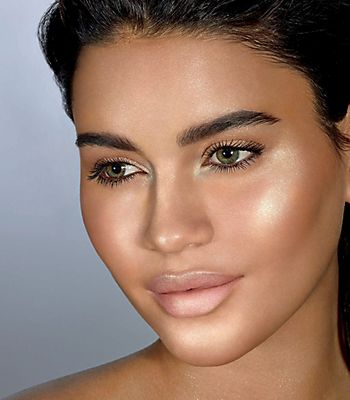 LauraMercier.com says: "Model is wearing: Aurora all over face (cheek, forehead, chin), Reflect on eyelid, Prism on eyelid, under the eyes and also on apples of cheek, Beam on inner eye corner." This palette will work nicely on different skin tones as well:
Another cult favorite that would be great for summer is the Laura Mercier Tinted Moisturizer – Oil Free. This tinted moisturizer has broad spectrum SPF20 and gives a healthy no-makeup look with a demi-matte finish. The formula is lightweight and helps control oil with a soft hint of color to help even out and enhance the skin tone. You can use this instead of foundation when you want a lighter, less coverage look. Tinted moisturizer is great for a day at the beach, when you want to wear light makeup to workout or hike, or when you're in a rush because you can apply it quickly with fingers, a brush, or a beauty blender. The Laura Mercier Tinted Moisturizer – Oil Free comes in 15 shades and has won tons of beauty awards.

I've heard amazing things about this luxurious body creme. This lotion is enhanced with Vitamin A, C, and E derivatives, Grape Seed oil, and other skin goodies. The Laura Mercier Almond Coconut Milk Souffle Body Creme scent was inspired by the aroma of a French Patisserie (yum) it smells like almond, coconut milk, jasmine, rosewood, ylang-ylang, vanilla, tonka, heliotrope and musk. Even though this lotion is pricey, the Laura Mercier Friends & Family: 20% off any purchase is the perfect time to try it!

Disclosure: This post contains affiliate links. Read more about what that means and how it works on my Disclosure page.